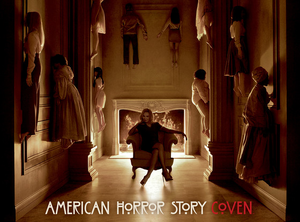 American Horror Story: Coven is one of the most Emmy-nominated shows of 2014 with an incredible 17 total nominations including "Outstanding Miniseries" and acting nominations for Jessica Lange, Sarah Paulson, Frances Conroy, Kathy Bates, and Angela Bassett. If you've been going through AHS withdrawals, you're in luck because the cast (or at least some of them) will be at Comic-Con! Even better, you can pre-order a copy of Coven on Blu-ray and DVD, AND you will get a little gift when you pre-order! Keep reading for more.
First of all, San Diego Comic-Con will host an American Horror Story panel for the first time! Sarah Paulson, Angela Bassett, Kathy Bates, Emma Roberts, Evan Peters, Michael Chiklis, and Executive Producer Tim Minear will take a look back at Coven, and will also give attendees some exclusive secrets from the upcoming Freak Show season. The panel will be on Saturday, July 26th from 7pm-8pm in Room 6DE.
Before that, members of the panel will be doing a signing at the Twentieth Century Fox booth (#4229) on Saturday, July 26th from 6pm-6:30pm.
Now, for the home video news! American Horror Story: Coven will be available for pre-order on Blu-ray and DVD at the Twentieth Century Fox booth (#4229). Lucky people will get Coven Voodoo dolls as a gift with purchase! However, it's only while supplies last. Check out the cool miniature Voodoo doll below along with an EXCLUSIVE FIRST LOOK (!!!) the AHS: Coven Blu-ray box art!
And did we mention this is an exclusive first look? That's right, folks, you read that right! So are you going to pre-order a copy for yourself in hopes of getting that little Voodoo doll?
Follow @FoxHomeEnt on Twitter for updates on all things Coven during the convention and follow us on Comic-Con Wikia to stay updated on everything that happens at Comic-Con!
---
---
Ad blocker interference detected!
Wikia is a free-to-use site that makes money from advertising. We have a modified experience for viewers using ad blockers

Wikia is not accessible if you've made further modifications. Remove the custom ad blocker rule(s) and the page will load as expected.